12 August 2017
Festival Des Arts Indiens - Reunion
Presenting the acclaimed 'Poetry in Motion' a collaborative work between Kathak and Bharata Natyam with Verushka Pather
20:00 at the Hall le Kerveguen
1 Rue de la Gendarmerie
St Pierre

Atelier Workshop: Saturday 12 August 2017 at 10 pm with Manesh Maharaj.

For information and reservations:
Tickets:www.monticket.re or 0892 707 974
Poetry in Motion - Durban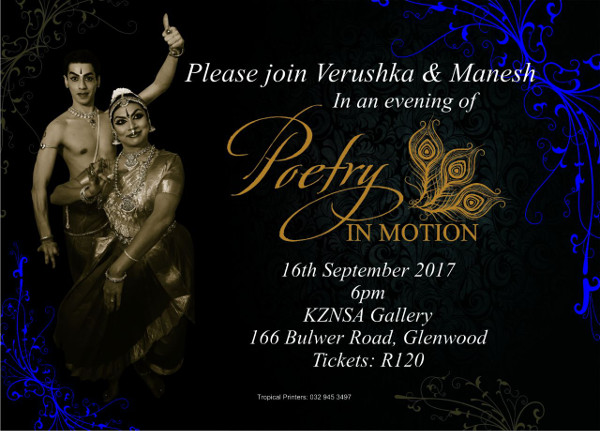 Poetry in Motion
16 Sep 2017 | KZNSA Gallery, 166 Bulwer Road, Durban | Tickets: 082-422-6865
Presenting the acclaimed 'Poetry in Motion' a collaborative work between Kathak and Bharata Natyam with Verushka Pather will be presented in Durban to an intimate audience at the KZNSA Gallery, Durban.
This special offering is the coming together of two of the world's most cherished and loved Indian classical dance forms and reflects our deep devotion to our respective dance styles whilst seamlessly weaving Bharata Natyam and Kathak into a connected whole. The many shades of emotions that reside within poetry forms the core of this innovative presentation.
POETRY IN MOTION was showcased at 'Festival Des Arts Indiens' in Rèunion this year and we look forward to sharing the success and beauty of this experience with artists and rasikas in Durban.
Please book early as there are only 100 seats available. We hope to see you there.